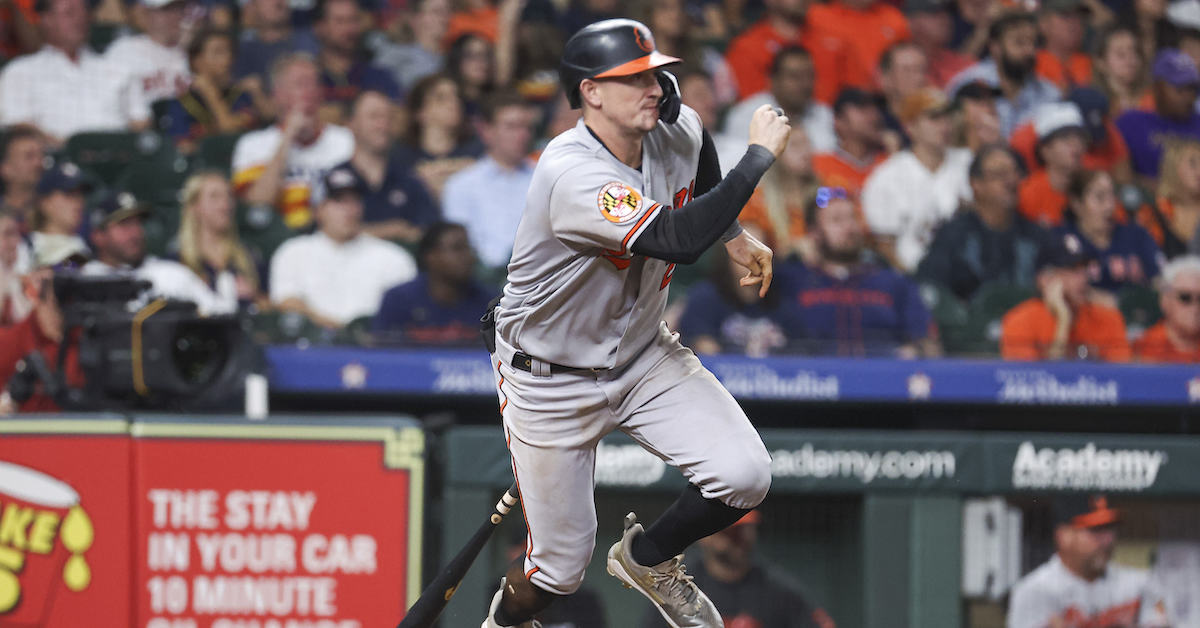 Austin Hays knows his numbers. More importantly, he understands the process behind his production. He's also having a career-best year: the 28-year-old outfielder has a 117 wRC+ to go with 36 doubles, 16 home runs, and a .283/.330/.462 slash line as a rock-solid contributor for a postseason-bound Baltimore Orioles team with the most wins in the American League. Overshadowed by young stars like Gunnar Henderson and Adley Rutschman, he is nonetheless an important piece of the puzzle.
The personable Port Orange, Florida product hasn't revamped his approach this season, but he has tweaked it in search of more thump. Hays explained how when the Orioles visited Fenway Park earlier this month.
———
David Laurila: When I brought it up yesterday, you told me you were aware that many of your 2023 counting stats are almost identical to what they were at the end of last year. What percentage of guys in this clubhouse would you say keep up with their numbers?
Austin Hays: "I think it's probably about half and half. There are guys who like to follow where they're at, follow what they're doing, and there are others who just like to look at the end of the season. I find numbers interesting, so I like to look at my own, and other people's numbers as well. It's something I've always been interested in."
Laurila: You're in the process of passing some personal milestones. Which of your numbers do you care the most about?
Hays: "Doubles is a big one for me, because that seems to be the thing that helps me out the most with my power numbers. I don't hit a ton of home runs, so the more doubles I can hit, the higher my slug and my OPS can be. You can get doubles in so many different ways, too. It's kind of a hustle stat in a way. If you can accumulate five to 10 hustle doubles by going hard out of the box throughout the season, they'll start to add up, That's thing I'm probably trying to boost up the most."
Laurila: Here's a question I'm pretty sure I've never asked anybody: Which of your [108] career doubles would be your favorite?
Hays: "We were playing the Angels at home. We were in the middle of a very long losing streak — we had lost 19 in a row — and I hit a double to drive in the go-ahead run in the bottom of the eighth inning. This was in 2021. I'd say that's probably my favorite one."
Laurila: Do you pay much attention to advanced stats, such as wRC+?
Hays: "I like looking at all of that stuff. There are so many ways to have good numbers. That's what I find so interesting about stats: you can have a guy who doesn't walk a lot, but he has a high batting average and a high slug, and then you could have a guy with a super-low batting average, he's hitting .190, but he still has an .820 OPS and a 120 OPS+ or a 120 wRC+. I find it crazy that you could be so different, yet you're kind of the same in terms of the value you bring to the table."
Laurila: To what extent can a player push toward a particular statistical profile? For instance, trying to hit for more slug as opposed to staying true to what he naturally does?
Hays: "I mean, you have your identity as a player. At the same time, you can look at the numbers and say, 'OK, who is a player that is similar to me in style?' and then look at what you can improve on, how you move up to the next tier. What are the areas or the statistics that you think you have a legitimate chance to improve on?"
Laurila: If you change your approach or your swing, you could compromise one area in order to improve another. Right?
Hays: "I think the best way for me to talk about that would be my own personal season. I've already reached my career high in doubles, and both my hard-hit rate and my barrel percentage have gone up. But I've also already reached my career high in strikeouts. One reason I'm striking out more is that I'm taking more pitches. That's because I'm trying to really zone in on a part of the plate, so that when I do swing, I'm going to hit the ball hard if I put it in play. That's opposed to trying to hit everything and putting balls in play with weaker contact. It's hard to get a hit when you don't hit the ball hard, so yes, I've kind of had to sacrifice some strikeouts and a little bit of swing-and-miss in order to be able to hit the ball harder."
Laurila: I've had hitters tell me they'd be better off swinging and missing more often with less than two strikes. Instead of making weak contact, they'd be getting another opportunity to square up a pitch.
Hays: "Yes. And sometimes you get halfway through your swing and realize it's a slider. You're better off to just keep going and swing right through it as opposed to trying to slow down your swing and manipulate it to make contact."
Laurila: How hard is it to do that?
Hays: "It's difficult. Like we were saying, you have your identity as a hitter. If you're a super-high contact hitter, you're trying to hit the ball all the time. That can be really good, especially with two strikes — a guy makes a nasty pitch and you have the ability to hit it — but it could be a detriment, too. Hitting borderline edgy pitches early in the count usually isn't going to result in driving the ball."
Laurila: Do you care about exit velocity?
Hays: "I do. You can hit the ball hard on the ground… like, we have a stat where we're looking at what our slug is per your launch angle. Hitting the ball really hard, even at four degrees, which is basically an ankle-high line drive, can still produce hits. You don't necessarily have to hit the ball in the air. Hitting it low and hard… you can kind of create your own luck, so to speak. The harder you hit it, the more likely the ball is to find a hole."
Laurila: Is chasing exit velocity a good idea?
Hays: "It depends on how you're chasing it. If you're trying to get your exit velocity up by effort level, you're over-swinging, that's probably going to cause you to chase pitches out of the zone. But if you're chasing exit velocity by making sure you're swinging at pitches over the heart of the plate, I think that would be a very good thing to try to do. That is what I've been trying to do."
Laurila: Which of your data do you look at after games?
Hays: "We have an app that we use. All of the information goes in there after each game, and something I've tried to improve on this year is my swing-decision scores. Every pitch you swing at or take, every pitch thrown, we have a score for. It's not a perfect metric, but I think it does a pretty good job of showing you what you're doing at the plate.
"If you're taking a strike with two strikes, that's going to have the biggest negative score. And if you're in a three-ball count and swing at a pitch that's pretty far outside the strike zone, a clear ball, that's going to get the most hurt as well. But if you take edgy pitches early in the count, or you take a close pitch for ball four, a pitch that is just outside the zone, that's going to get the most points.
"That's something I've been looking at every single day. It's 'OK, how was my plate discipline yesterday? How did I do?' From that you can start to see, 'Oh, wow, I've had a really good two weeks, I've have a lot of doubles, hit some home runs, and my batting average is really high.' I'll see that I've been making really good swing decisions, and that's led me to me hitting the ball hard. Or let's say I have a bad week. I can see if there is any correlation to the pitches I've been swinging at and if I've been chasing."
Laurila: Valuable information, but as you said, not a perfect metric.
Hays: "Right. Much like you can't be all in for exit velocity, you can't be all in for swing decisions. You're going to have days where you're minus-50 and go 4-for-4, or you'll have a day where you go 0-for-3 with three strikeouts and your score was plus-14. That does happen. So it's not the end all be all. But over a long period of time, the guy that has a pretty high batting average or a really high on-base tends to have better scores."
Laurila: What is more important, results or process?
Hays: "Because of how long a baseball season is, if you're focusing on the process and you're going about it the right way, the results will probably be there. So to answer your question, I would say the process. If you get too caught up in the results without focusing on the process, they're not going to be there. Because we play this game every single day, you can't live and die by that. Again, a good process leads to good results."
——
Earlier "Talks Hitting" interviews can found through these links: Jo Adell, Jeff Albert, Greg Allen, Nolan Arenado, Aaron Bates, Jacob Berry, Alex Bregman, Bo Bichette, Cavan Biggio, Charlie Blackmon, JJ Bleday, Bobby Bradley, Will Brennan, Jay Bruce, Triston Casas, Matt Chapman, Michael Chavis, Garrett Cooper, Gavin Cross, Jacob Cruz, Nelson Cruz, Paul DeJong, Josh Donaldson, Brendan Donovan, Donnie Ecker, Rick Eckstein, Drew Ferguson, Justin Foscue, Michael Fransoso, Ryan Fuller, Joey Gallo, Paul Goldschmidt, Devlin Granberg, Andy Haines, Mitch Haniger, Robert Hassell III, Nico Hoerner, Rhys Hoskins, Eric Hosmer, Tim Hyers, Connor Joe, Josh Jung, Jimmy Kerr, Heston Kjerstad, Steven Kwan, Trevor Larnach, Doug Latta, Royce Lewis, Evan Longoria, Michael Lorenzen, Gavin Lux, Dave Magadan, Trey Mancini, Edgar Martinez, Don Mattingly, Marcelo Mayer, Hunter Mense, Owen Miller, Ryan Mountcastle, Cedric Mullins, Daniel Murphy, Lars Nootbaar, Logan O'Hoppe, Vinnie Pasquantino, Luke Raley, Brent Rooker, Drew Saylor, Marcus Semien, Giancarlo Stanton, Spencer Steer, Trevor Story, Fernando Tatis Jr., Spencer Torkelson, Mark Trumbo, Justin Turner, Trea Turner, Josh VanMeter, Robert Van Scoyoc, Chris Valaika, Zac Veen, Alex Verdugo, Mark Vientos, Matt Vierling, Luke Voit, Anthony Volpe, Joey Votto, Christian Walker, Jared Walsh, Jordan Westburg, Jesse Winker, Bobby Witt Jr. Mike Yastrzemski, Nick Yorke, Kevin Youkilis