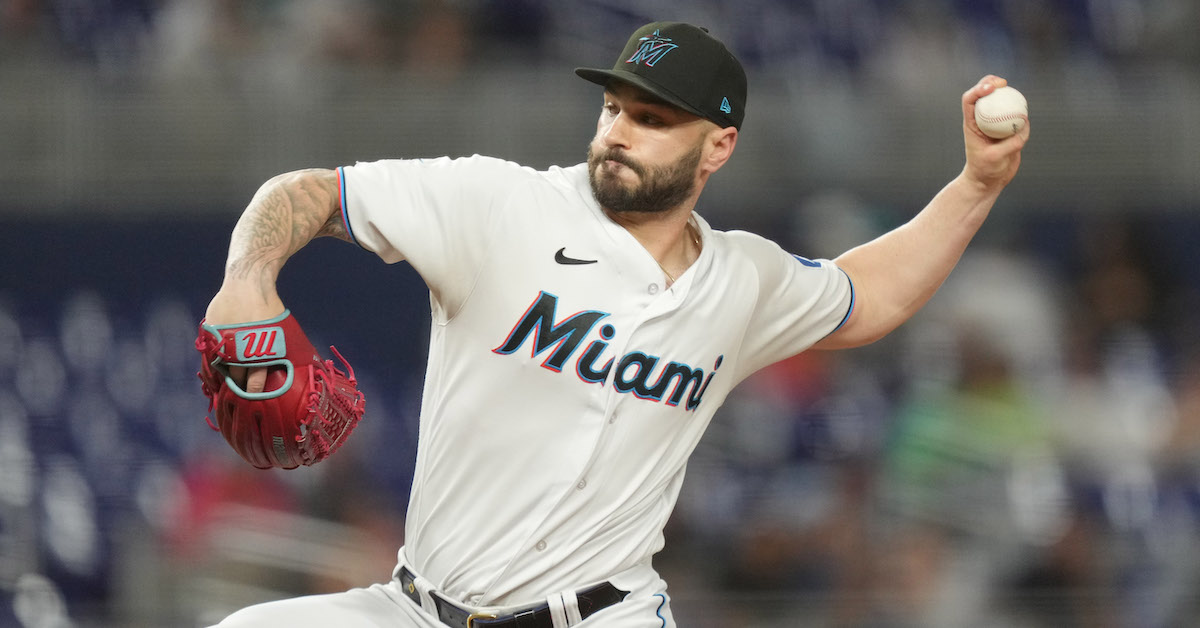 Tanner Scott isn't just what you get when you put James McAvoy under a UV lamp.
Okay, now I have to pretend this entire article was more than a flimsy pretext to make that joke. Here goes.
Scott has been one of the best relief pitchers in baseball this season, and an unlikely linchpin to Miami's persistent postseason challenge. The headline numbers look pretty good for Scott: 9-5 with nine saves, a 2.44 ERA, a 2.32 FIP (second among relievers behind Félix Bautista and Matt Brash), 2.4 WAR (second to Bautista) and a 32.7% strikeout rate. But because of where Scott plays, his performance means even more than what it looks like.
About a month ago, I wrote about how the Marlins were outplaying their run differential, and with two weeks to go in the season that's still the case. This despite Miami's bullpen being merely pretty good, and not spectacular. The Marlins are eighth in the majors in bullpen WAR (about half of which is because of Scott), ninth in K-BB%, 19th in ERA-, and 21st in opponent batting average.
Nevertheless, Miami came out of this past weekend a big league-best 31-13 in one-run games. Now, the thing Scott has done best is avoid melting down. He's made 70 appearances this season, and hasn't allowed more than two runs in any of them. And in one-run games, he's been even better. Scott has appeared in 30 of Miami's 44 one-run games this season, and the Marlins have gone 23-7.
Personally, Scott has gone 4-2 with 11 holds, five saves and two blown saves (both of which ended in the Marlins, and Scott, taking a win) in those 30 games. In 30 2/3 innings, he has an ERA of 2.05 and 45 strikeouts against 23 hits and 12 walks.
So where did all this come from? Because Scott isn't some Abner Uribe type, shooting up through the minors and falling into a high-leverage role at an age when most young men are figuring out how to move out of their parents' house. Scott is 29 years old and in his 10th professional season, with over 300 major league appearances under his belt. This is his third consecutive season of 60 or more appearances, and sometimes he's even been pretty good; Scott saved 20 games for the Marlins last year, and posted a 1.31 ERA in 25 appearances for Baltimore in 2020.
But this was never in there over a full season. So why is he so effective this year?
Let's start with the things he's always done well. Scott's fastball comes in at an average of 96.7 mph, which is a silly number from the left side, even by today's standards. This season, only Aroldis Chapman, Gregory Soto, and Cionel Pérez throw harder among left-handed relievers. His fastball also has a lot of rise, which allows it to play well off his devious upper-80s slider. This isn't a complex repertoire, and it's mostly about vertical movement, but that's good enough for Scott to bag a lot of strikeouts and induce a lot of weak contact:
A Tanner, Scott-ly
| Year | GB% | BA | xBA | SLG | xSLG | Whiff% |
| --- | --- | --- | --- | --- | --- | --- |
| 2022 | 46.3 | .236 | .223 | .348 | .324 | 35.7 |
| 2023 | 48.8 | .194 | .206 | .264 | .272 | 35.6 |
SOURCE: Baseball Savant
Through 9/18
Scott is definitely keeping the ball off the fat part of the bat more this year than last, but he was already good at that. Last year, he was in the 96th percentile for whiff rate, 89th for xISO, and 87th for hard-hit rate. And all that got him was somewhere in the neighborhood of league average.
Here's what's changed. Last year, he was walking the world, and this year he's not. It's really that simple:
Look What Happens When You Throw Strikes
| Year | BB% | BB% Percentile | Zone% | Chase Rate | First Pitch Strike% | wOBA |
| --- | --- | --- | --- | --- | --- | --- |
| 2022 | 15.9 | 1 | 45.8 | 29.1 | 54.9 | .321 |
| 2023 | 8.3 | 50 | 51.9 | 34.6 | 69.8 | .239 |
SOURCE: Baseball Savant
Through 9/18
Last year, Scott was one of the wildest pitchers in baseball, but good at getting strikeouts and weak contact, and a useful-but-not-great pitcher overall. This year, he's a league-average strike-thrower, and one of the best in the league at getting weak contact. And he's put on a dynamite season on the whole.
I want to focus on a few specific changes. The first is Scott's hard-hit rate, which has fallen by a hair under eight points. That doesn't sound like a lot, but out of the 224 qualified pitchers on Baseball Savant's leaderboard, that's the 15th-biggest positive change from 2022 to 2023. He went from 33rd last year to second this year. His improvement in walk rate, 7.6 percentage points, is the biggest in baseball by a huge margin, 1.6 points.
But those gains are dwarfed by his improvement in first pitch strike percentage. Last year, Scott was 263rd out of 274 pitchers with at least 250 batters faced. This year, he's fourth out of 252. Last year, Scott's opponents walked so much Fitz and the Tantrums named a song after him, then played it so much it got overexposed and the band jumped the shark. (Which is a pity, because "Moneygrabber" remains an all-time banger.)
This year, Scott is throwing more first-pitch strikes than George Kirby, the strike-throwin'-est gunslinger in the entire wild west. His improvement in first strike percentage, 14.9 points, is almost half again as much as the second-biggest gainer, Joel Payamps.
You don't need to be Leo Mazzone to figure out what throwing a lot of first-pitch strikes does for a pitcher. The improvement in Scott's walk rate alone is equivalent to one less baserunner every 13 batters faced. Beyond that, anyone who's ever played Little League, coached Little League, or been within earshot of anyone who's coached Little League can tell you how important it is to work from ahead in the count.
With all of that said, I feel obligated to offer a peek behind the editorial curtain: I started writing this column on Monday afternoon, and noted that the only runs Scott had allowed since August 1 were ghost runners in a game Miami won. From August 1 until Sunday, Scott didn't allow an earned run. He was 4-0 with seven saves in eight opportunities, and struck out 23, walked three, and held opponents to a .154/.197/.181 batting line. Scott led all relievers in WAR, gmLI, and WPA (by about two-thirds of a win) over that period. The only players at any position with more WPA over that period were Bryce Harper, Julio Rodríguez, and Trea Turner.
I don't know what more a manager could ask of his relief ace, particularly for a low-scoring team in a tight pennant race. Skip Schumaker would seem to agree, because the Marlins manager elevated Scott to closer over A.J. Puk during that run.
All that was tidy and impressive enough to make for a good blog post, I thought. Then, as I was putting the finishing touches on this column, Scott came in for the top of the ninth inning of a 1-1 game against the Mets and allowed a home run to Jeff McNeil. The first home run Scott had allowed in a one-run game all season, in fact.
Sportswriters often say they don't root for outcomes. That's not really true; we all have our biases, acknowledged or not, but in reality most of us are fans of anything that gets us out of work at a reasonable hour and preserves a story we've already written. The longstanding joking-not-joking line about furious scribes popping a vein when a late comeback forces them to start their game story over? It's true.
So while I was annoyed at McNeil for having futzed with my narrative, it's happened to me hundreds of times before and will happen hundreds of times in the future. I took an angry stomp around the house, pushed the story back a day, and resolved to try again when Scott's last act was something more productive than losing a crucial division game in a pennant race.
Having updated the story, I settled down to watch last night's Astros-Orioles game. James McCann was living out an entire Somerset Maugham novel behind the dish when I saw a clip of a Jake Burger walk-off single meander across my Twitter timeline.
Sure enough, Scott had been involved. He'd entered the game in the top of the ninth to preserve a 3-1 Marlins lead. McNeil was the first batter he faced, and that irrepressible little [expletive] led off with a double. That sparked a two-run rally, and Burger put the Marlins over the top in the bottom of the ninth.
One solo home run is a speed bump; two rough outings in a row can't be ignored, particularly if the premise of the article is that the pitcher in question is unhittable. Two things about Scott are undeniable: His stuff is impressive, and he's made unbelievable (almost literally unbelievable) strides as a strike-thrower in the past 12 months.
But almost every postseason, we see an unhittable reliever run out of gas and lose it at the end. Will Harris in 2019, Andrew Miller in 2016, and so on. Is that happening to Scott? I don't know. He's made 20 appearances in the past seven weeks, five of them on back-to-back days. In September, he's thrown 10 times in 19 days, which is one of the heaviest relief workloads in baseball this month. And why not? I just said he's been incredible and the Marlins need every inning from him.
Scott has only emerged as a Billy Wagner clone in the past couple months, but he's been a high-usage reliever for years. Tuesday night was Scott's 224th relief appearance since the start of the 2020 season, tied with A.J. Minter for the fourth-most in baseball over that time. He's in the top 10 for total relief innings over the past four seasons. Maybe all of that work is adding up and he needs a break.
Can Scott shake these back-to-back rough outings off? If so, how quickly? The Marlins are about a coin flip to make the playoffs, and Scott is one of their most important players. Those questions could determine their fate.