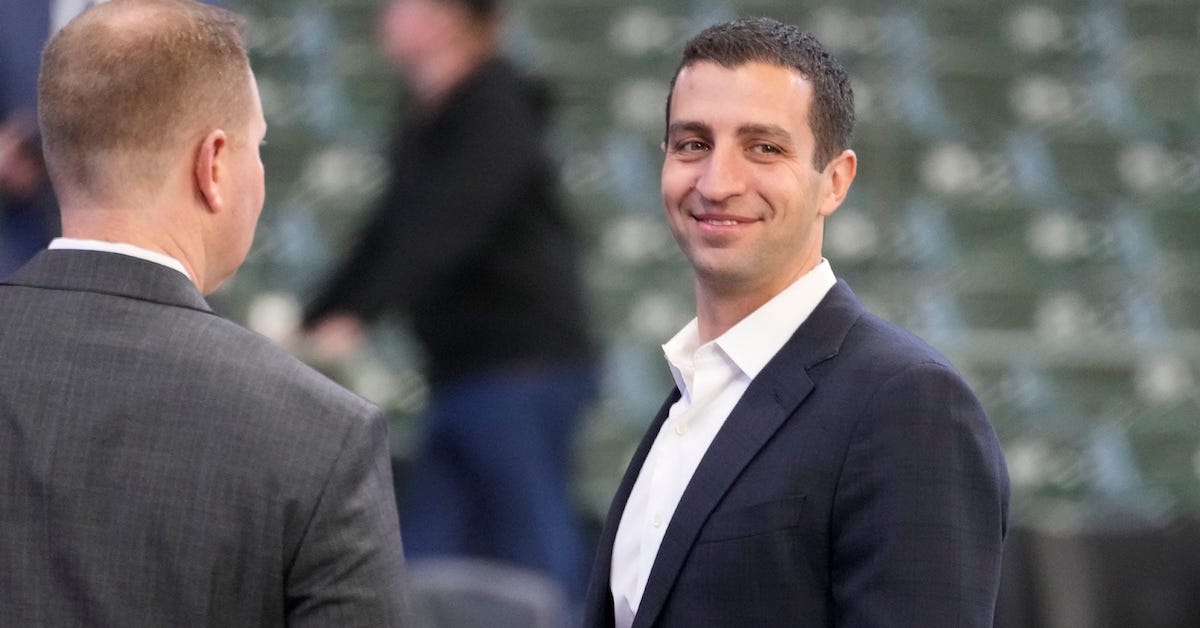 If I were an image-conscious billionaire with a disappointing baseball team on my books and unlimited financial resources, David Stearns is one of the first people I'd call to run it. The Mets won 101 games in 2022, and while 2023 represents a monumental step back for the franchise, this team still has tons of talent both in the majors and high minors. It's also better-funded than any other team in the league.
So with Stearns due to join the Mets as president of baseball operations, we get a talented, rich team being run by one of the top executives in the sport. I don't know if it will work, because nothing with the Mets is straightforward, but I see no obvious better idea.
The Mets had reportedly been interested in Stearns as far back as 2020, and when the Manhattan native stepped down last year, it was widely assumed that he'd take the Mets job when his contract expired at the end of 2023. Now that the worst-kept secret in baseball is out in the open (seriously, I feel a bit silly for not having this prewritten years in advance like a New York Times obituary), let's see exactly what Stearns can do for the Mets.
Baseball leadership has been the Mets' weakness under Steve Cohen's tenure as owner. Team president Sandy Alderson led a scandal-plagued operation that saw one GM fired and suspended for sexually harassing a reporter and his replacement dismissed after being arrested for DWI. (He was later acquitted of the charge.) The incumbent GM, Billy Eppler, has spent Cohen's money competently and even masterminded a creative and productive fire sale this trade deadline, when it turned out that the Mets had brought in a pair of Hall of Fame pitchers (Max Scherzer and Justin Verlander) who'd started to turn purple on the supermarket shelf. They did exactly what a team should do in that situation: eat salary to bring in better prospects. Never mind that it's not a great sign the Mets were in that position to begin with.
(Free advice to anyone with a bit of free time and entrepreneurial spirit: Start a company that makes voodoo dolls and effigies that resemble Drew Gilbert and open storefronts in Philadelphia and Atlanta. In five years you'll be rich enough to buy an MLB team yourself.)
But while Eppler's front office has been good at spending Cohen's money, it has struggled in the less flashy but more essential areas that make up the foundation of a successful baseball organization: scouting and player development. The Mets seem to have conceded as much when they fired four of Eppler's top assistants in these areas two weeks ago.
All this is to say that I tried to lay out a one- or two-sentence aside about how the Mets have been kind of dysfunctional at the top of the baseball ops pyramid, and even that basic overview stretched out to two paragraphs, plus one more for the joke about Drew Gilbert.
In short, this is a team in dire need of a steady hand on the tiller. And looking back on some of the weird front office leadership the Mets have had in the past 25 years (the aforementioned GMs, Brodie Van Wagenen, the Triumvirate, Omar Minaya), poaching the highly regarded architect of a successful mid-payroll team might count as unorthodox for this franchise.
At age 38, Stearns has already racked up an impressive CV. After working for the league office and a variety of teams in his early-to-mid-20s, he came to prominence as the assistant GM of the Astros from late 2012 to '15. That's the perfect time frame, from a résumé-building standpoint: He helped pull the Astros out of the their nadir and build them into a playoff team but left before the sign-stealing scandal.
In late 2015, Stearns left the Astros to become GM of the 94-loss Brewers. Within two seasons, they were back above .500. In Year Three, they were the top seed in the NL playoff bracket, took the Dodgers to seven games in the NLCS, and kicked off a run of four consecutive postseason appearances. Stearns turned the club over to his top assistant, Matt Arnold, last winter, but the machine has continued to chug along in 2023.
Under Stearns, the Brewers have been superb developers of pitching talent: Corbin Burnes is a Cy Young winner, and Brandon Woodruff and Freddy Peralta became All-Stars. They took Drew Rasmussen, a player the Rays wouldn't sign after spending a first-round pick on him, and turned him into a player the Rays would trade Willy Adames for. (A lot of that has to do with injury history, but the Brewers still deserve credit.) Stearns also sold high on Jonathan Lucroy, trading him to Texas for a package headlined by Lewis Brinson; 17 months later, he used Brinson as the centerpiece of a trade that allowed him to buy low on Christian Yelich.
And the Brewers' success isn't just the result of clever trades and great scouting. With Stearns in charge, team owner Mark Attanasio has run payrolls in the bottom half of the league. Some of the spendier years coincided with periods in which the rest of the league was on a capital strike during free agency; Stearns and the Brewers pounced, signing Lorenzo Cain and Yasmani Grandal as free agents.
In short, Stearns has overseen a front office that has done all the things the Mets have failed to accomplish, even during the team's more successful years. He seems like the perfect peg for this opening.
Which is not to say that Stearns has been perfect. His Brewers clubs have frequently hobbled exceptional pitching with a disturbing lack of thump in the lineup. He's a frequent trade partner of San Diego GM A.J. Preller, at least relatively speaking. If you're vaguely aware of baseball, Preller has traded with you at least twice in the past five seasons; he and Stearns trade a lot even by those standards. Each has taken chunks out of the other in that time. And I'd argue that one of the biggest things Stearns did to help the Brewers was a trade he was involved in just before he left Houston: Carlos Gómez and Mike Fiers for Josh Hader, Adrian Houser, and Brett Phillips.
I bring all this up not to be contrarian, or to imply that I don't think highly of Stearns as a constructor of winning ballclubs, because I do. I bring this up because, in the spirit of the obvious choice being the correct one, this hire is getting compared to Andrew Friedman leaving the Rays for the Dodgers in 2014. Friedman was then, as Stearns is now, the highly regarded mastermind of a team that won consistently despite running low payrolls in an unfashionable market. He was handed the keys to a talented but frequently aimless team with more money to spend than any other team in the league — again, much like Stearns a decade later.
Friedman has run the Dodgers for nine years. They're about to wrap up their eighth division title in that span; the one time they failed to win the NL West under Friedman, they won 106 games, finished a game out of first place, and beat the Giants in the NLDS. Along the way, they have also won three pennants and a World Series. In addition to developing Corey Seager, Will Smith, Cody Bellinger, and Walker Buehler; they traded for Scherzer, Yu Darvish, Trea Turner, Manny Machado, and Mookie Betts; signed Freddie Freeman as a free agent; and, finally and most importantly, conjured All-Star performances from Max Muncy, Chris Taylor, and Tony Gonsolin. (Apologies if I've forgotten anyone; the Dodgers have had so many successful players in the past nine seasons it's tough to remember them all.)
The Dodgers aren't just rich; they're also good at everything. They win every year, without exception. That is going to be the expectation for the Mets under Stearns, and God help him if they fall short.
It won't matter that Stearns will face a few obstacles that Friedman didn't when he first took over the Dodgers. These are by no means insurmountable, and if Stearns can bring home the piece of metal they'll only make the victory sweeter. Namely: the Dodgers are owned by a nameless conglomerate of investment bankers that I imagine living in a tank and barely maintaining human form, like if the navigators from Dune only communicated through Magic Johnson. Cohen, by contrast, is very real, and very corporeal, and is more of a hands-on owner, for good or ill.
Second, the NL West has usually not been as competitive as the NL East is now. The Braves are the best team in baseball at the moment, and their entire core is locked up through the Rapture. The Phillies would be the insurmountable big-market bully in either Central division and aren't going away anytime soon either. Let's put it this way: If Stearns builds a Mets team that wins eight division titles in nine years, they should build a new Hall of Fame just for him.
Everyone in the Mets' orbit probably understands, on an intellectual level, that this is a tougher job than the combination of top payroll and elite head of front office would make it look like. There's every likelihood that it'll take Stearns time to get his player development and scouting staff in place, to say nothing of a manager, which is a real concern given the wobbliness of Buck Showalter's chair at the moment.
I have no doubt that Stearns can build the Mets into a perennial World Series contender, if Cohen gives him the time and money to do so. There's a reason this has been such a hot rumor for so long: It's the obvious solution. The Mets, of all teams, don't need to overcomplicate things.