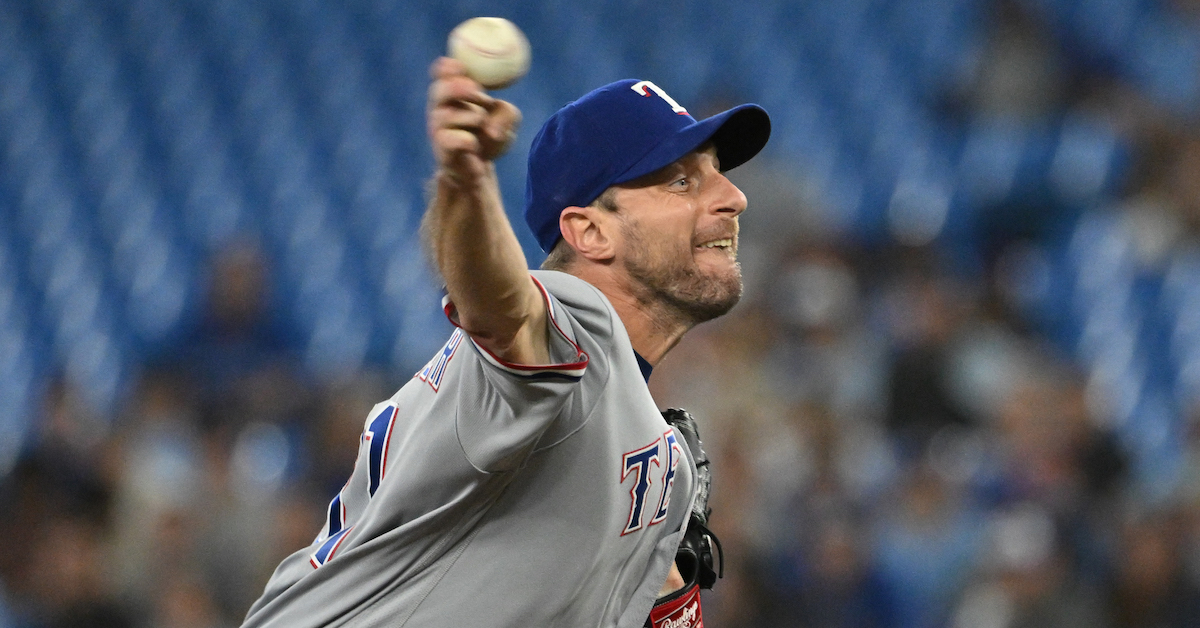 All season, the Rangers have been fighting gravity. They stormed out to a lead in the AL West, but they lost Jacob deGrom in the interim. The Astros lurked not far off the pace. But the Rangers persevered and held their lead until the trade deadline. Reinforcements were on the way! Max Scherzer, Jordan Montgomery, Aroldis Chapman — they made more improvements than any other team in the league.
They needed it, too, because Nathan Eovaldi hit the IL the next day. Josh Jung followed not long after. As they slogged through August, the Mariners charged into the AL West race, making it a three-way fracas. No sooner did Eovaldi return than Adolis García succumbed to injury. And now, with the playoffs hanging in the balance and every win at a premium, this:
Right-hander Max Scherzer is expected to miss the remainder of the regular season with a strained teres major — a muscle that connects the scapula to the humerus. Scherzer is, Texas GM Chris Young told reporters, "unlikely" to pitch in the playoffs.

Brutal news for the Rangers.

— Jeff Passan (@JeffPassan) September 13, 2023
What rotten luck. For those of you who aren't anatomists, the teres major is a muscle in the rear shoulder that gets stressed by pitching. It's been in the news quite a bit this year, in fact. Justin Verlander missed the first month of the season with a low-grade teres major strain. Triston McKenzie missed the first two months of the season with a strained teres major. John Means' return from Tommy John surgery was delayed by a teres major injury. None of these injuries have seemed to linger, and none required surgery, but the timeline is unfortunately immutable: there's no chance of Scherzer making it back for the regular season, and little shot of him pitching in the playoffs either.
Obviously, that's going to affect Texas' playoff chances. Scherzer was already part of the Rangers' backfill for deGrom; now they'll have to dip into the reserves again, with no trade deadline to help them this time. That probably means Andrew Heaney, who had pitched himself out of the rotation, will step in to absorb some innings, with similarly demoted Martín Pérez as the next line of defense.
For a team missing as many starters as the Rangers, that's not a bad fallback option. Our Depth Charts projections peg Heaney as a 4.25 ERA starter and Pérez at 4.43. Scherzer himself was projected for a 4.01 mark before going down. Over the three or so starts remaining in Scherzer's season, that comes out to between half a run and one run allowed. That hardly sounds disastrous.
That might be the math, but I'm skeptical that it will pan out that way in practice. Sure, Scherzer is projected for a 4.01 ERA the rest of the way, but that doesn't really sound right to me. He's Max freaking Scherzer. As always, he's prone to the occasional homer-marred clunker, but he's looked more like his old self in recent starts. He might not be the dominant pitcher we all got used to in the last decade, but his 3.20 ERA and 3.43 FIP in Texas feel closer to the mark than what the models think. Pencil him in for a low-to-mid-3s ERA and more innings than his replacements, and we're talking about a handful of runs instead of a fractional amount.
However you slice it, though, the Rangers are losing some marginal run prevention, and every little bit helps given the tight playoff picture. The Astros hold a one-game lead over the Rangers, with the Mariners lurking a further half-game back. Texas and Seattle are also the second and third wild card teams at the moment, but that race is tight as well; the Blue Jays are only one game back for the third and final spot. In other words, a single game could mean the difference between a first-round bye and a wild card spot, or between a wild card spot and missing the playoffs entirely.
Before Wednesday's games and Scherzer's injury, we gave the Rangers a 13.3% chance of winning the division and a 72.7% chance of making the playoffs. We'll come back to these numbers at the end of the article, but for now, just consider them a baseline. If those odds sound low in your head, I'm with you, but it basically comes down to the fact that we don't like Texas' offense very much. We project the Rangers to score 4.79 runs per game the rest of the way, down from a 5.54 mark so far this year. Obviously, Scherzer doesn't have anything to do with that part of the projection, but I think it's important to set a baseline.
On the run prevention side, the projections are considerably closer to what has transpired on the field so far. The Rangers have allowed 4.43 runs per game. With Scherzer in the fold, we thought they'd allow 4.6 the rest of the way. With him on the shelf, that number goes up to 4.63. It's kind of hard to conceptualize how little 0.03 runs per game is.
Again, these aren't big differences. Even if you knew exactly how good every pitcher would be, replacing a 3.50 ERA arm with a 4.50 ERA arm is only worth two runs over 18 innings. That's just math. Plenty of the time, those runs won't matter. Just to pick a random example: Scherzer pitched six scoreless innings against the Twins on September 1, and the Rangers lost 5–1 anyway. His previous start was also against the Twins, and also excellent. He threw seven innings and allowed two runs, and the Rangers won 6–2.
It's incontrovertibly true that the Rangers are still a good team without Scherzer. They still employ Corey Seager and Marcus Semien. Their offense is still good; we think it's a top ten unit. Their pitching, even without deGrom and Scherzer, is average or better. They haven't gone 81–64 by accident. It would be entirely unsurprising if the Rangers walked into the playoffs comfortably.
But even if those two runs mostly don't matter, mostly isn't the same as always. Not every game is a blowout. The Rangers have played 32 one-run games this year. That means that more than a fifth of their games have come down to a single run. They've won 13 of those games, so nearly 10% of their games might have had a different outcome if the opposition had done just a little more damage against Texas' starter that day.
There's a proper middle ground between the nihilism of believing that Scherzer's injury changes nothing and the catastrophizing belief that he's going to cause the team to lose a pile of one-run games. To figure out that middle ground, I enlisted resident ZiPS master Dan Szymborski to figure out how much Scherzer's injury hurts the team's playoff chances. I had Dan run two scenarios. One is just reality: the Rangers replace Scherzer with some combination of Heaney and Pérez. In that scenario, ZiPS thinks the team's median finish is 90–72:
ZiPS Projected Standings – AL West (9/14)
| Team | W | L | GB | Pct | Div% | WC% | Playoff% | WS Win% |
| --- | --- | --- | --- | --- | --- | --- | --- | --- |
| Houston Astros | 91 | 71 | — | .562 | 53.4% | 37.6% | 91.0% | 13.2% |
| Texas Rangers | 90 | 72 | 1 | .556 | 25.2% | 50.4% | 75.6% | 1.6% |
| Seattle Mariners | 89 | 73 | 2 | .549 | 21.4% | 51.1% | 72.5% | 4.0% |
| Los Angeles Angels | 76 | 86 | 15 | .469 | 0.0% | 0.0% | 0.0% | 0.0% |
| Oakland A's | 53 | 109 | 38 | .327 | 0.0% | 0.0% | 0.0% | 0.0% |
In the second, I had Dan make Scherzer healthy again. In that scenario, ZiPS thinks the team's median finish is… 90–72:
ZiPS Projected Standings – AL West (Healthy Scherzer)
| Team | W | L | GB | Pct | Div% | WC% | Playoff% | WS Win% |
| --- | --- | --- | --- | --- | --- | --- | --- | --- |
| Houston Astros | 91 | 71 | — | .562 | 52.2% | 38.6% | 90.8% | 12.9% |
| Texas Rangers | 90 | 72 | 1 | .556 | 27.2% | 50.4% | 77.6% | 2.0% |
| Seattle Mariners | 89 | 73 | 2 | .549 | 20.7% | 50.9% | 71.5% | 3.9% |
| Los Angeles Angels | 76 | 86 | 15 | .469 | 0.0% | 0.0% | 0.0% | 0.0% |
| Oakland A's | 53 | 109 | 38 | .327 | 0.0% | 0.0% | 0.0% | 0.0% |
Boy, those are similar. ZiPS thinks the Rangers will make the playoffs 75.6% of the time, and that they'd make the playoffs 77.6% of the time if Scherzer were still available. That's a vanishingly small difference. Again, there just aren't that many games left, and one player usually doesn't matter that much.
There's a secondary effect in there, perhaps a greater one depending on how you weigh the relative merits of regular season and playoff success. The playoff rotation takes a meaningful hit with no Scherzer in the mix. That presses Dane Dunning into mainline duty, and the step down from Scherzer to Dunning is no joke. As you can see in the ZiPS odds up above, Texas' World Series odds dip significantly with Mad Max watching from the dugout. In the real world, ZiPS thinks the Rangers win the whole ball of yarn 2.1% of the time assuming they make the playoffs. With Scherzer, it thinks they'd win in 2.6% of their playoff trips.
If those still feel like small numbers to you, I sympathize. They are small numbers! It doesn't feel like it should work that way; Scherzer is really good. His absence should damage his team's chances. To make a cross-sport analogy, the Jets went from trendy Super Bowl pick to cautionary tale when Aaron Rodgers got hurt; why isn't Scherzer's injury as big of a deal?
First, the Rangers are a lot closer to the playoffs; they've already done most of the hard work of playing a full season's worth of games. Second, baseball has a lot more randomness and a lot less variation in skill between a player and their backup. It's easy to picture how the bad scenarios will go — Scherzer's replacement getting shelled in a deciding game when he would have dominated — but that's not the majority of possible outcomes. Just last year, Scherzer made one playoff start and gave up seven runs in 4.2 innings. The Braves have one World Series title so far in their recent run of dominance, and it was the year where Ronald Acuña Jr. was injured and didn't play.
Remember those Depth Chart odds coming into yesterday? We gave the Rangers a 72.7% chance of making the playoffs with a healthy Scherzer. If you check our site today, you'll see that they've climbed to 79.1%. That's because the Blue Jays lost and the Astros, Rangers, and Mariners all won. One of the teams in the three-way wild card chase losing is worth more than six percentage points. That's triple the difference that ZiPS ascribes to replacing a star with a journeyman.
In that sense, this injury isn't a particularly devastating blow. But for both Rangers fans and fans of the game in general, it still stings. The playoffs are more fun with stars like Scherzer around. The more good players are missing, the more it feels like we're watching some watered down version of the playoffs instead of the real deal. To me, that's the real cost of this injury. It's not a few points of playoff odds, or even the change in World Series odds if Texas plays into October. The playoffs are a show that the sport puts on for all of us, and now an understudy will be stepping into the role of traveling ace. The only silver lining is that the team called it unlikely, not impossible, that Scherzer will return in the postseason. Now that would be an October to remember.